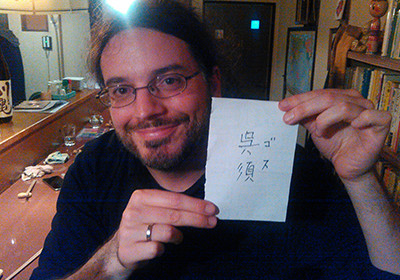 At this home-from-home izakaya with its old bookstore charm, Mr. and Mrs. Kadoya welcome you with smiles. There's a good selection of sake, including from Ehime, and beer from around the world. There's also a good choice of tasty, reasonably-priced food too.
2-5-17 Sanbanchō, Matsuyama
Open: 18:00 to 24:00
Closed: Sunday
Profile of the owners

Satoshi KadoyaHaiku pen name: Living well (void)
Loves free-verse haiku and Ryukyu folk songs. Likes watching movies and listening to music. Absolutely loves bestowing haiku pen names on people, but isn't often invited to.

Tomoko KadoyaHaiku pen name: Watch child (Tokeko)
Interests include the sanshin, old books, baseball, cats and haiku. She has a charming smile. She creates a calm, relaxed atmosphere.
Haiku service at Hoyaken
Simple written directions for creating a haiku are provided. There are also haiku guidebooks in English with seasonal words.
Haiku cards and pens when you come up with a haiku, you can write it down on a purpose-made card.
The owner will give you a haiku pen name. Tell him your name, interests, skills and so on.