Contest Comments by David McMurray
This contest received 4,113 entries, of which 1,587 were photo-haiku composed in English. 1,186 haiku were matched to 12 photos supplied by the organizer. The preliminary judge short-listed 60 hotly-contested qualifiers, noted typos, and ferreted out allusions. The final judge sensitively selected a grand-prix, 2 awards for excellence, and 9 honorable mentions. Entries from the U.K., Japan, India, Germany, USA, New Zealand, and Poland led the competition which attracted photo-haikuists living in 43 countries.
Grand Prix
UKJohn Hawkhead
sitting together
we share a quiet moment
in different dreams
Comment from the Judge: David McMurray
Two mandarins placed side by side atop a mooring bollard for the photo were delightfully personified in the haiku to create a calm reverie. The author employed a 5-7-5 syllable structure to hold perhaps what felt like centrifugal forces on these spherical bodies. The gifted poet is deserving of the top prize for a timely poem that gravitated towards describing how couples might be passing their time, close but apart, during the pandemic.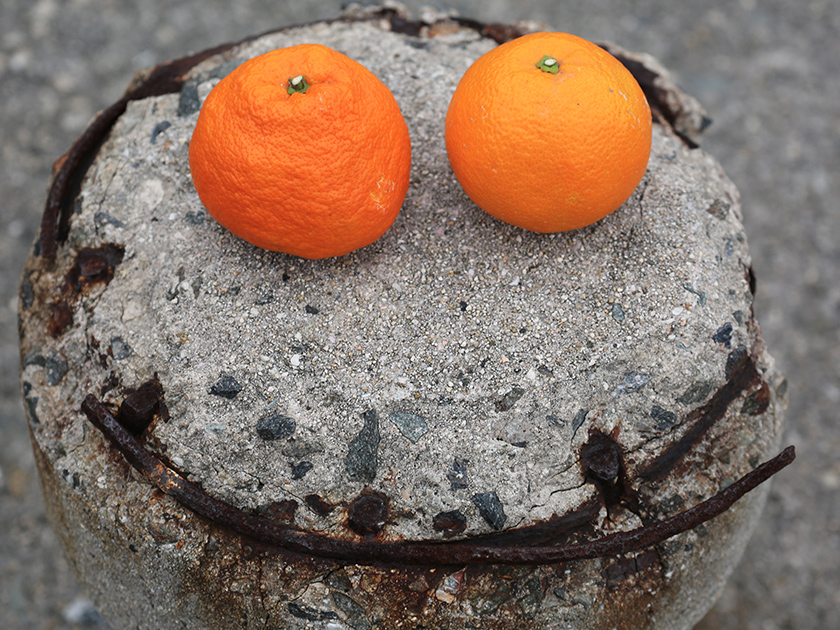 Ehime Citrus at Port Sakari(Imabari City, Ehime Prefecture)
Award for Excellence
JapanKai
spring breeze
on the palm of my hand
a pink ship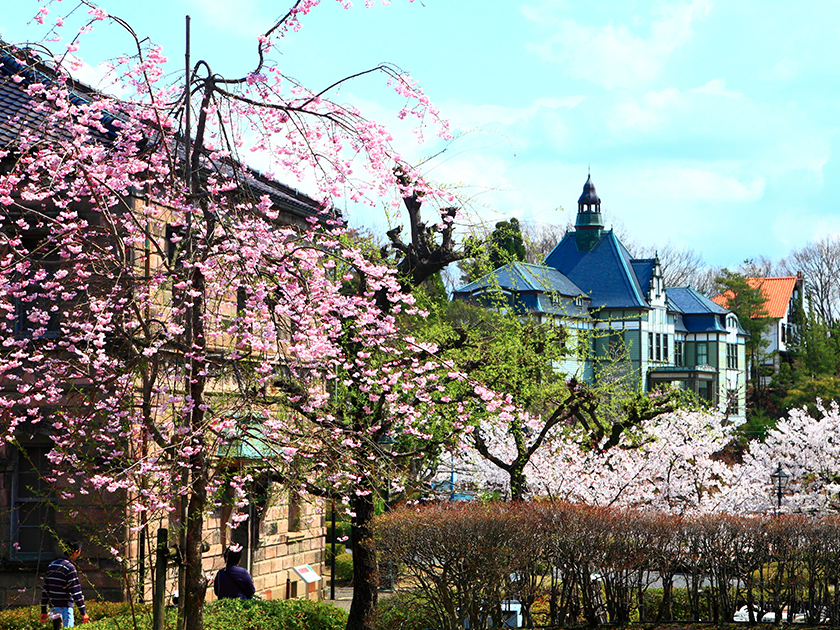 A Glorious Spring Day (Inuyama City, Aichi Prefecture)
Comment from the Judge: David McMurray
The author has likely experienced raising his arm to catch petals floating from a cascading blossom tree. He dreams perhaps of being able to freely embark on a voyage. The imaginative photo-haiku includes a comforting middle line from the Hebrew Bible and literary works such as Nobel Prize-winner Yasunari Kawabata's "Palm-of-the-Hand Stories" and Tomihiro Hoshino's "In the Palm of Your Hands" about feelings and what we think we can influence.
Award for Excellence
IndiaSrinivasa Rao Sambangi
guarded castle
a tremor opens the door
to moon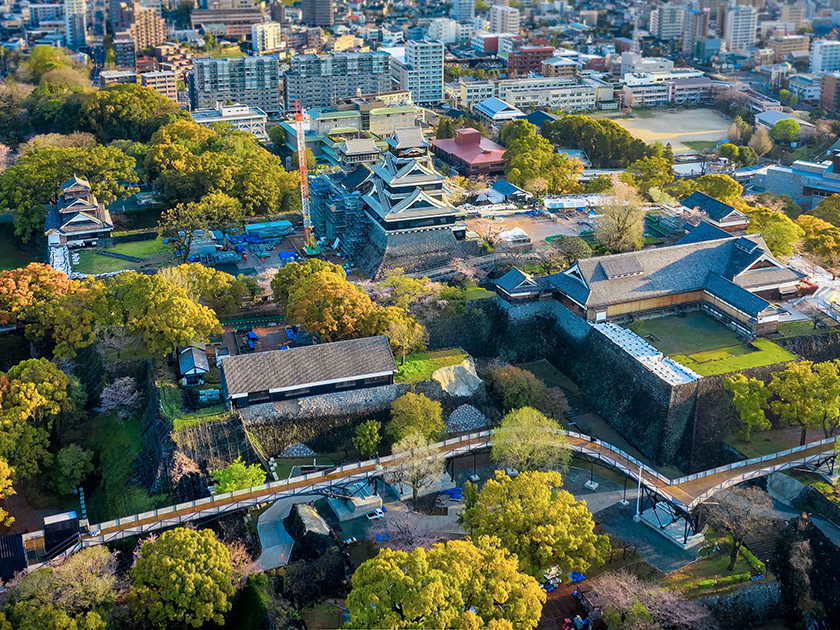 Kumamoto Castle Special Observation Path (Kumamoto City, Kumamoto Prefecture)
Comment from the Judge: David McMurray
The photo-haikuist created historical fiction from a photo of an aerial walkway that affords a view of restoration work on a beloved relic damaged by earthquakes. The first two lines described the powerful force, the third line employed a verb which can imply gazing at the site in idle revelry, or to expose as moonlight. He alluded perhaps to a poem penned in 1688 by Mizuta Masahide who was mollified by the ability to view the moon after a barn burnt to the ground.
Honorable Mentions
Dogo Onsen Rickshaw Parking (Matsuyama City, Ehime Prefecture)

UKMarion Clarke

almost noon . . .
we ask the rickshaw man
to wait for the drums

Feather in Rice Field (Matsuyama City, Ehime Prefecture)

GermanyMonica Wang

treasure
from a fleeing thief
morning light

Kobo Daishi of Monjuin (Matsuyama City, Ehime Prefecture)

IndiaKanchan Chatterjee

autumn begins . . .
starting my Sanskrit lessons
with the word 'Karma'

Fishing at dusk near Okunoshima(Takehara City, Hiroshima Prefecture)

USAAnn Magyar

a song drifts ashore
from the last fishing boat
evening fog

Remains of the Edo Castle Outer Moat (Shinjuku Ward, Tokyo)

JapanRyuto

When the sun sets
Another city floating
In the river

Arasaki Coast (Yokosuka City, Kanagawa Prefecture)

JapanGege

Migration
Sun light over the sea
Dazzling

Takasaka Sculpture Promenade (Higashi Matsuyama City, Saitama Prefecture)

JapanPia Medrano

Waiting to meet
the old man
practices his smile

75th Anniversary of the Bombing (Hiroshima City, Hiroshima Prefecture)

New ZealandPatsy Turner

the shadows
on your doorstep
hiroshima

Hokiji Temple (Ikaruga Town, Nara Prefecture)

PolandSebastian Chrobak

omikuji
he leaves the future behind
on a pine tree