Contest Comments by David McMurray
Year by year, the Setouchi Matsuyama Photo-Haiku Contest in English attracts greater numbers of higher quality entries. In this 8th year of competition, a record-breaking 1,583 photo-haiku in the English language were submitted – 1,256 with photos provided by the contest and 327 with original photos of the sea.
The active convergence of photography and haiku resulted in synergetic art forms. Talented artists created fine art by skillfully composing a haiku and arranging it with an original photo taken somewhere in the world where they have traveled. Some photo-haikuists added elements unseen in the frame of their camera viewfinders. Others helped viewers to feel, hear, smell, and taste what had been experienced. Unique phrases and poetics were crafted to emphasize the focus and lines in their photos. From among 327 entries, a grand prix was selected, 2 awards for excellence were chosen, and 7 photo-haiku were honorably mentioned. These ten truly remarkable photo-haiku reveal the imaginative, aesthetic, and skillful accomplishment of their creators.
Grand Prix
MalaysiaChristina Chin
honeymoon
sunset quietly slips
into text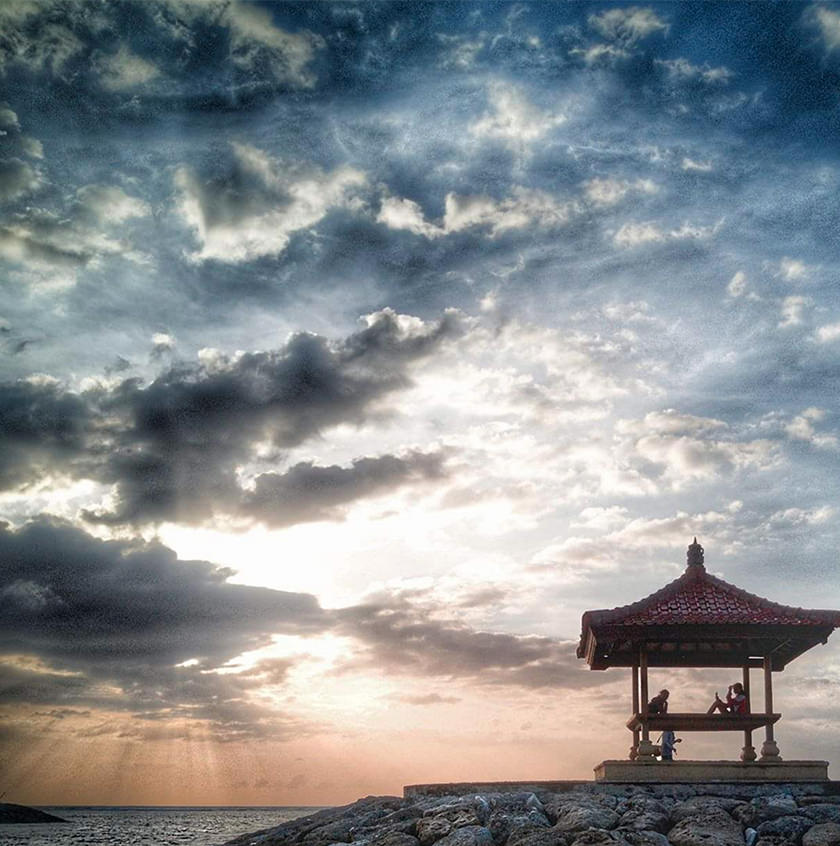 Comment from the Judge: David McMurray
The grand prix winner shares the quintessence of photo-haiku. A talented artist -- with a flair for haiku, photography, video, and painting – she lives by the sea in Kuching, Sarawak on the island of Borneo. She perfectly described the abstract convergence of real life into art form, of image into words, and of photography into haiku. Seemingly without notice, the harmonious scene of a demure setting sun coupled with faint pastel clouds was transformed into the austere form of a written text message. Real life moved into the medium of a mobile phone text. The wedded lovers are presumably sitting with faces aglow in the ceramic-tiled gazebo by the sea.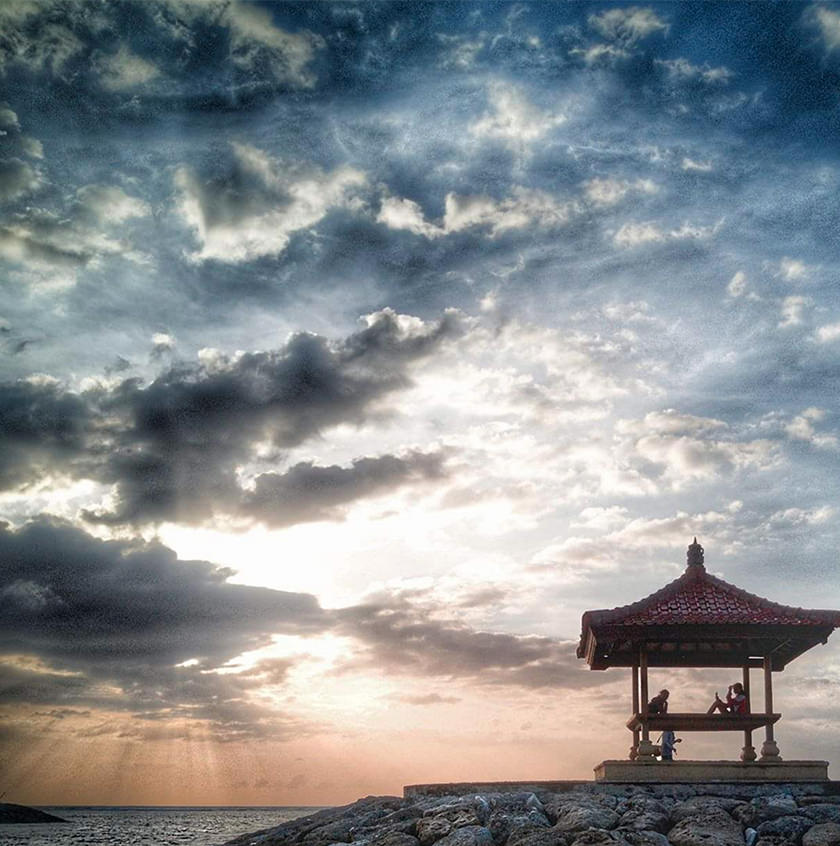 Award for Excellence
JapanJIRO OBA
in the subway
whiff of a
clamming basket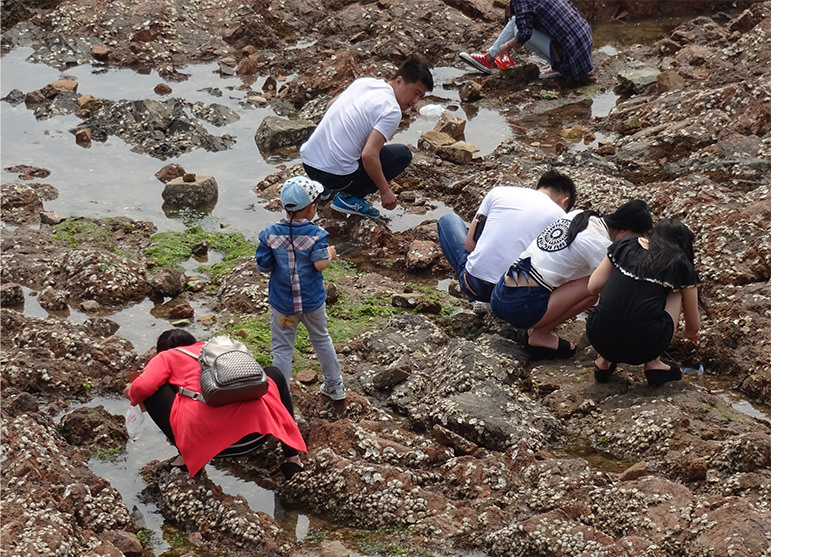 Comment from the Judge: David McMurray
The photo-haikuist presents us with an active shell-gathering scene as well as a lived experience while transiting by train. What appears to be a Chinese family can be seen hunting among barnacles on a rocky coast, and what is described is a curiously tempting scent from the sea as perceived while riding mass rapid transit in a city. These two events may have taken place in Kawasaki where the photo-haikuist lives or in Taipei where he has family ties and likes to vacation. The intriguing combination of sight and smells in two different, yet connected locations makes this photo-haiku worthy of an award for excellence.
Award for Excellence
CroatiaDanijela Grbelja
waiting for spring
a siren song
in the mariner's heart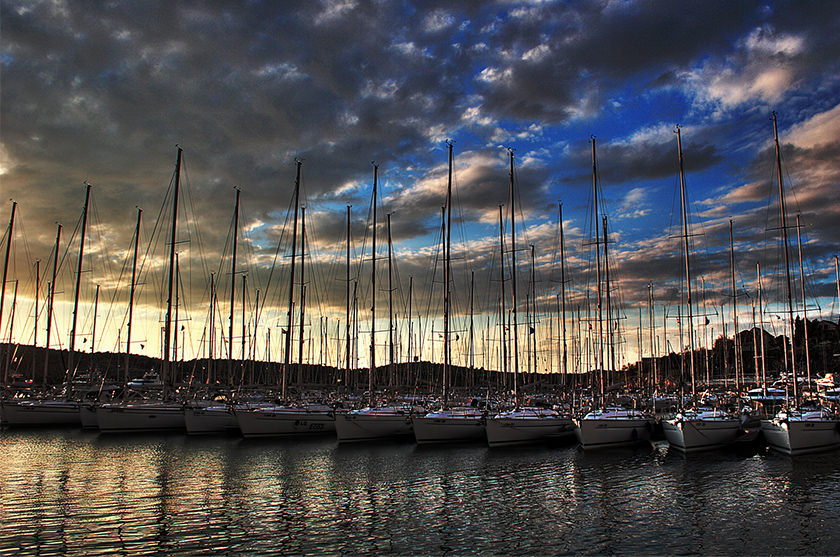 Comment from the Judge: David McMurray
An intense photograph of a line of fishing schooners safely tied up in harbor under slate blue winter clouds is combined with a forlorn sense of longing and an imagined luring sound from songbirds in spring. In European mythology, bewitchingly seductive songs by winged-women lured mariners to sail dangerous seas. By creatively adding magical tales and beautiful calls to the eerie sheen of the photograph, readers can share the pathos of a fishermen's life in Croatia.
Honorable Mentions
IndiaSrinivasa Rao Sambangi

autumn evening
the boat returns slow
from backwaters

PortugalCorine Timmer

autumn equinox--
the ebb and flow
of a tourist town

IndonesiaLucky Triana

free falling
off the cliff--
my shadow

JapanJay Ercanbrack

Until you return
spending my time
counting grains of sand

PakistanMohammad Azim Khan

honeymoon cruise
sunlight through the porthole
late riser

JapanHou Jingli

blue sea
an airplane leaves
me behind

CanadaJosephine LoRe

the symmetry
of late summer days
on the water